The Black Large Size Shapewear Bodysuit Front Zipper Smooth Silhouette perfect to warn under all dresses, pants or skirts.
It Features:
1. Reverse zipper design for invisible under tight clothes;
2. Crotch buckle design makes it convenient to use the restroom;
3. Adjustable shoulder straps offering comfort and flexibility;
4. Chest pressing dies, suitable for a variety of chest sizes.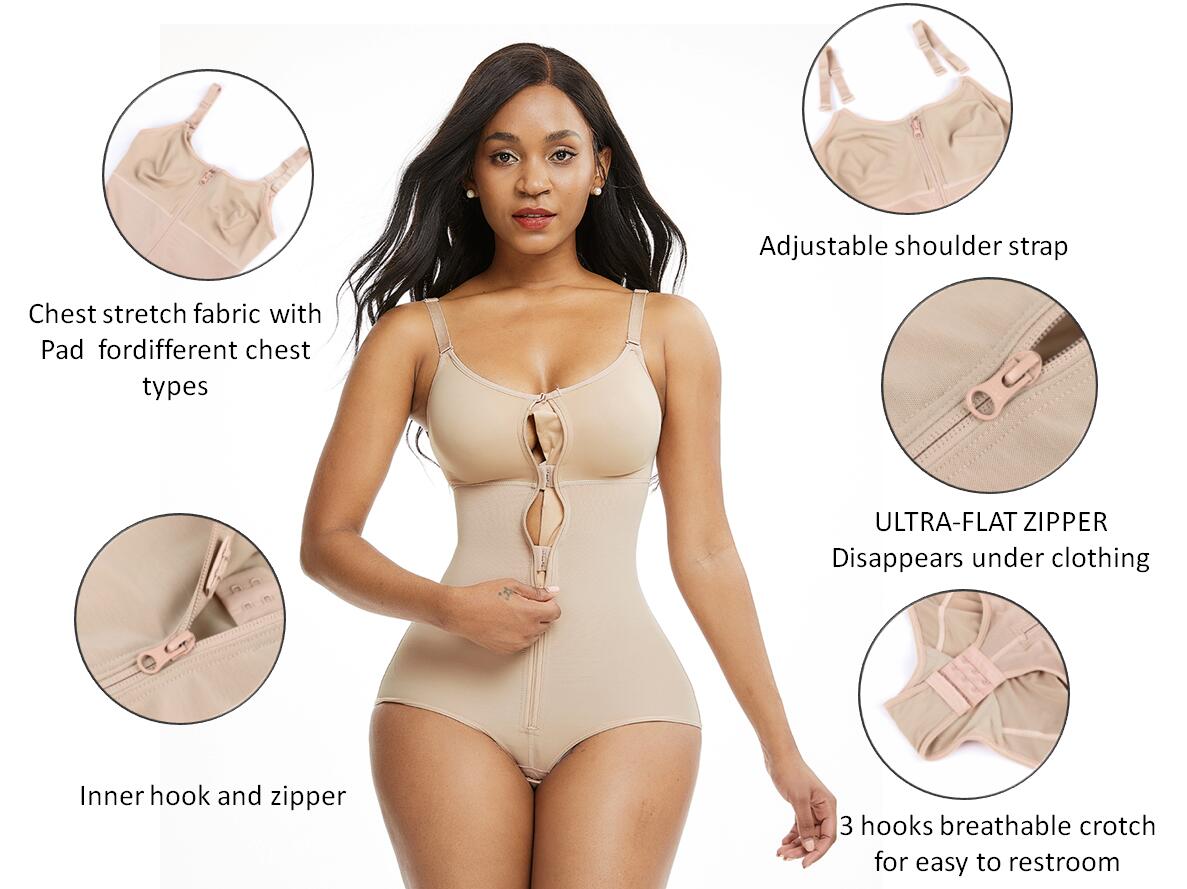 Pay attention: This size chart shows the size of the body measurements,not the size of the shaperwear
| size | us | ukaunz | italy | france | spain | germany | janpan | russia | bust | waist | hip |
| --- | --- | --- | --- | --- | --- | --- | --- | --- | --- | --- | --- |
| S | 4-6 | 8-10 | 40-42 | 36-38 | 36-38 | 34-36 | 9-11 | 42-44 | 86-92 | 66-72 | 90-96 |
| M | 8-10 | 12-14 | 44-46 | 40-42 | 40-42 | 38-40 | 13-15 | 46-48 | 92-98 | 72-78 | 96-102 |
| L | 12-14 | 16-18 | 48-50 | 44-46 | 44-46 | 42-44 | 17-19 | 50-52 | 98-104 | 78-84 | 102-108 |
| XL | 16-18 | 20-22 | 52-54 | 48-50 | 48-50 | 46-48 | 21-23 | 54-56 | 104-110 | 84-90 | 108-114 |
| XXL | 18-20 | 22-24 | 54-56 | 50-52 | 50-52 | 48-50 | 23-25 | 56-58 | 110-116 | 90-96 | 114-120 |
| 3XL | 20-22 | 24-26 | 56-58 | 52-54 | 52-54 | 50-52 | 25-27 | 58-60 | 116-122 | 96-102 | 120-126 |
| 4XL | 22-24 | 26-28 | 58-60 | 54-56 | 54-56 | 52-54 | 27-29 | 60-62 | 122-128 | 102-108 | 126-132 |
| 5XL | 24-26 | 28-30 | 60-62 | 56-58 | 56-58 | 54-56 | 29-31 | 62-64 | 128-134 | 108-114 | 132-138 |
| 6XL | 26-28 | 30-32 | 62-64 | 58-60 | 58-60 | 56-58 | 31-33 | 64-66 | 134-140 | 114-120 | 138-144 |
Pay attention: This size chart shows the size of the body measurements,not the size of the shaperwear
| size | us | ukaunz | italy | france | spain | germany | janpan | russia | bust(Inch) | waist(Inch) | hip(Inch) |
| --- | --- | --- | --- | --- | --- | --- | --- | --- | --- | --- | --- |
| S | 4-6 | 8-10 | 40-42 | 36-38 | 36-38 | 34-36 | 9-11 | 42-44 | 33.9-36.2 | 26.0-28.3 | 35.4-37.8 |
| M | 8-10 | 12-14 | 44-46 | 40-42 | 40-42 | 38-40 | 13-15 | 46-48 | 36.2-38.6 | 28.3-30.7 | 37.8-40.2 |
| L | 12-14 | 16-18 | 48-50 | 44-46 | 44-46 | 42-44 | 17-19 | 50-52 | 38.6-40.9 | 30.7-33.1 | 40.2-42.5 |
| XL | 16-18 | 20-22 | 52-54 | 48-50 | 48-50 | 46-48 | 21-23 | 54-56 | 40.9-43.3 | 33.1-35.4 | 42.5-44.9 |
| XXL | 18-20 | 22-24 | 54-56 | 50-52 | 50-52 | 48-50 | 23-25 | 56-58 | 43.3-45.7 | 35.4-37.8 | 44.9-47.2 |
| 3XL | 20-22 | 24-26 | 56-58 | 52-54 | 52-54 | 50-52 | 25-27 | 58-60 | 45.7-48.0 | 37.8-40.2 | 47.2-49.6 |
| 4XL | 22-24 | 26-28 | 58-60 | 54-56 | 54-56 | 52-54 | 27-29 | 60-62 | 48.0-50.4 | 40.2-42.5 | 49.6-52.0 |
| 5XL | 24-26 | 28-30 | 60-62 | 56-58 | 56-58 | 54-56 | 29-31 | 62-64 | 50.4-52.8 | 42.5-44.9 | 52.0-54.3 |
| 6XL | 26-28 | 30-32 | 62-64 | 58-60 | 58-60 | 56-58 | 31-33 | 64-66 | 52.8-55.1 | 44.9-47.2 | 54.3-56.7 |