This Blue Cross Back Pleated Sling Athletic Jumpsuit Sensual Silhouette comes in various sizes and will lighten up your workout wardrobe.

It Features:

1. Four-way stretch fabric with delicate seaming, skin-friendly, soft, moisture-wicking and breathable;
2. Strappy back shows body curve and improves ventilation during activities;
3. Removable pads enable you to wear your favorite sports bra inside the bodysuit for low/mid/high impact exercises;
4. Professionally-distributed stitching lines contours body, the ruched butt prevents flattening the natural curve.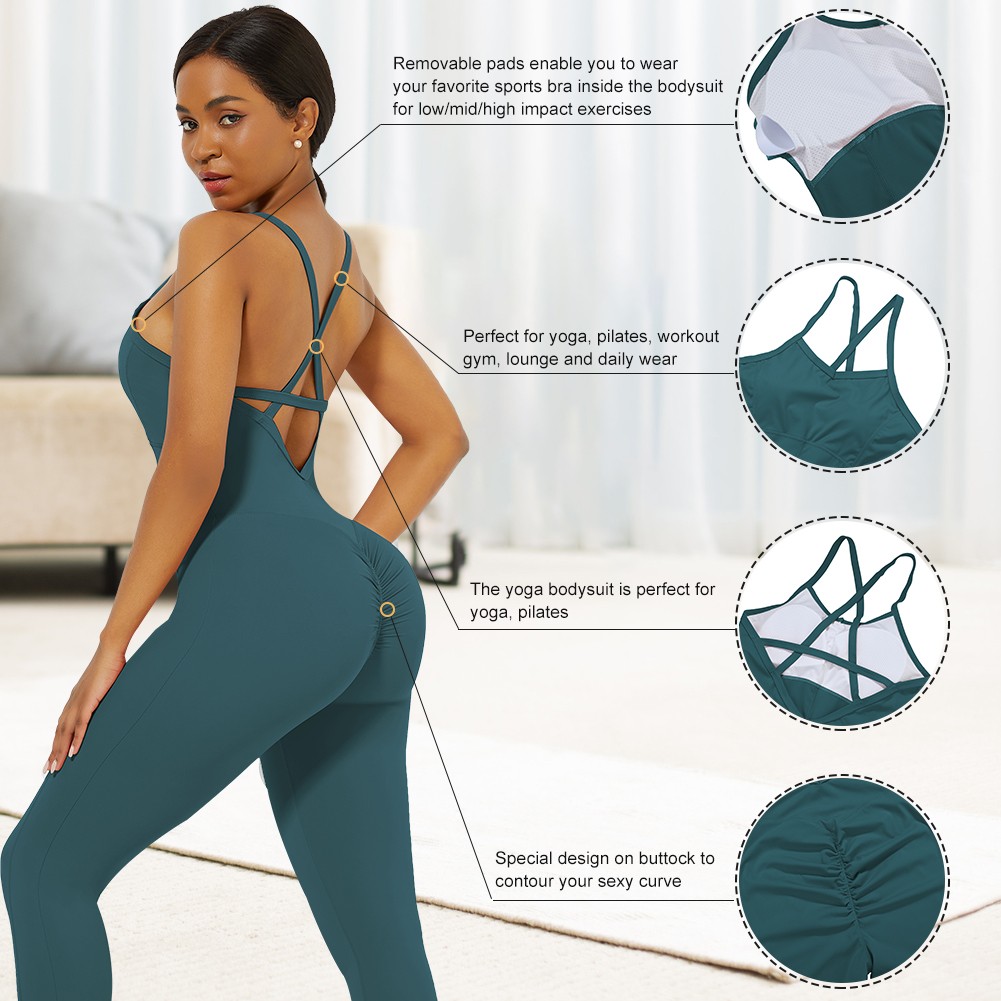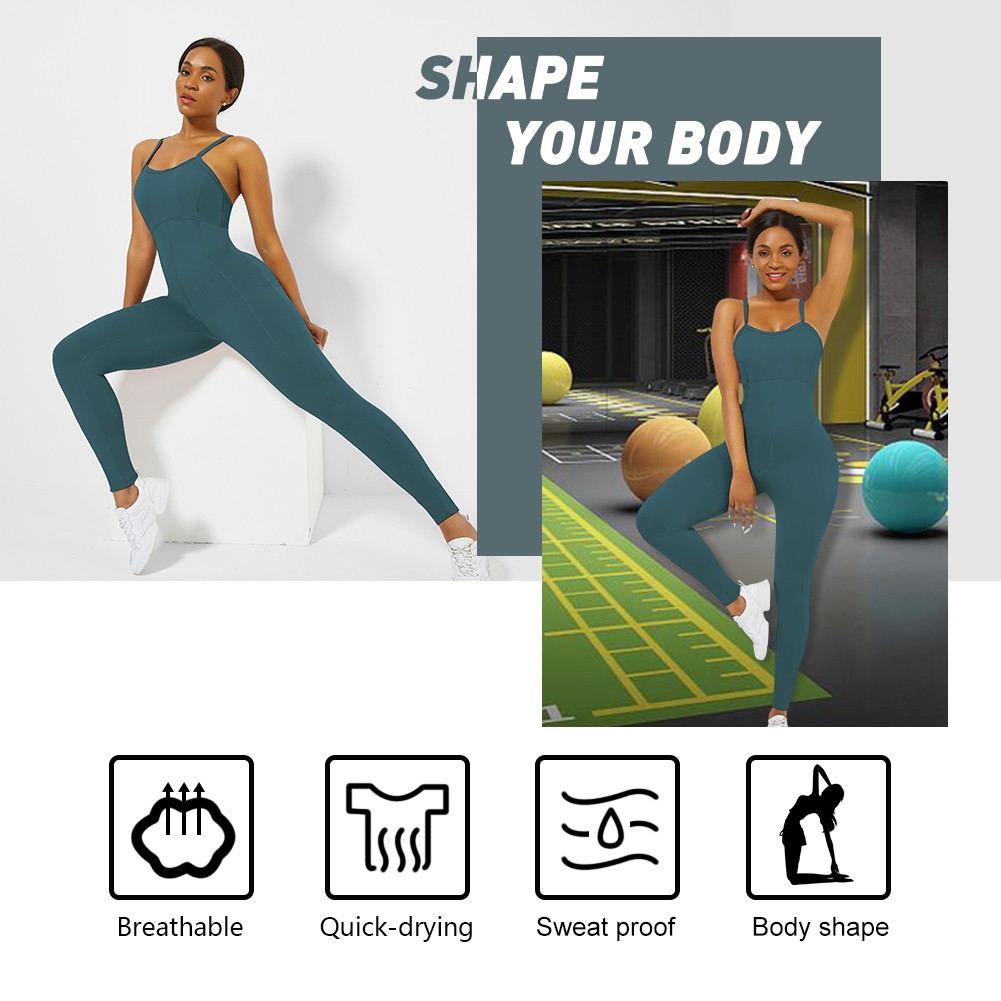 | size | us | ukaunz | italy | france | spain | germany | janpan | russia | bust | waist | hip | length_of_pants |
| --- | --- | --- | --- | --- | --- | --- | --- | --- | --- | --- | --- | --- |
| S | 4-6 | 8-10 | 40-42 | 36-38 | 36-38 | 34-36 | 9-11 | 42-44 | 80-86 | 64-72 | 84-94 | 131.5 |
| M | 8-10 | 12-14 | 44-46 | 40-42 | 40-42 | 38-40 | 13-15 | 46-48 | 84-90 | 68-76 | 88-98 | 134.5 |
| L | 12-14 | 16-18 | 48-50 | 44-46 | 44-46 | 42-44 | 17-19 | 50-52 | 88-94 | 72-80 | 92-102 | 137.5 |
| XL | 14-16 | 18-20 | 50-52 | 46-48 | 46-48 | 44-46 | 19-21 | 52-54 | 92-98 | 76-84 | 96-106 | 140.5 |
| size | us | ukaunz | italy | france | spain | germany | janpan | russia | bust(Inch) | waist(Inch) | hip(Inch) | length_of_pants |
| --- | --- | --- | --- | --- | --- | --- | --- | --- | --- | --- | --- | --- |
| S | 4-6 | 8-10 | 40-42 | 36-38 | 36-38 | 34-36 | 9-11 | 42-44 | 31.5-33.9 | 25.2-28.3 | 33.1-37.0 | 131.5 |
| M | 8-10 | 12-14 | 44-46 | 40-42 | 40-42 | 38-40 | 13-15 | 46-48 | 33.1-35.4 | 26.8-29.9 | 34.6-38.6 | 134.5 |
| L | 12-14 | 16-18 | 48-50 | 44-46 | 44-46 | 42-44 | 17-19 | 50-52 | 34.6-37.0 | 28.3-31.5 | 36.2-40.2 | 137.5 |
| XL | 14-16 | 18-20 | 50-52 | 46-48 | 46-48 | 44-46 | 19-21 | 52-54 | 36.2-38.6 | 29.9-33.1 | 37.8-41.7 | 140.5 |